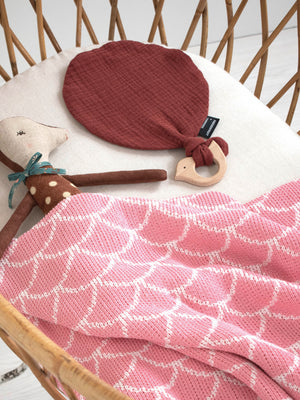 Or planning to spoil a mommy to be?
Contemporary knitwear for fashion and home  |  Handmade in the Netherlands
A gorgeous baby gift set with an
Organic cotton blanket
Hand knitted in a small studio near Leiden, the Netherlands
available now
What our customers say about our baby blankets
I love the custom made baby blanket we received as a gift for our daughter a few years ago!

So much so, that I recently used the pattern and colour combination as inspiration for our sons nursery.

Sunette Caplin

South Africa
We absolutely love our son's blanket and use it all the time.

It is top quality, super soft and easy to care for!

Wies van der Zee

Netherlands
So happy with this baby blanket from Passionfruit and Lemonade!

Lovely soft materials in beautiful colors and the blanket is large enough to wrap your baby in completely.

A gorgeous gift (for yourself)!

Anouk Litjens

Netherlands
Discover Passionfruit and Lemonade's first collection of incredibly soft, luxurious scarves. Their generous size, vibrant colours and bold patterns are a unique finishing touch to any wardrobe.
An expression of love
"When I think of Ellen's work, I think of a true artist in the purest form of the word.
She cares deeply and thinks very carefully about every aspect of each piece she produces. From the design to the fabric or yarn she uses for each item to the longevity of that item.
We live in a world where we can obtain things very easily, like the clothes we wear - how they come to be or how long they'll last are often distant thoughts from our minds.
I see Ellen bringing back a deep appreciation for quality and incredibly handcrafted designs that are as unique as the owners who will wear them."
- Hannah Viviers
Anchor at CGTN - currently located in Nairobi, Kenya
What customers say about our scarves
The colours and patterns are incredible and fit with my whole wardrobe. I love that my custom made scarf is authentic and exclusive. I will definitely order again.

Justin Rondganger

Mozambique
My scarf is so beautiful, snuggly and warm!

Amanda Thompson

United Kingdom
My custom made Passionfruit and Lemonade scarf arrived and it is so much prettier than I had been imagining!!

Also soft as a chinchilla's butt and it smells like heaven.

If you are looking for a super cozy gift for someone, can't recommend it enough!

Lidija Paradinovic

Canada
My two favorite scarves are made by Passionfruit + Lemonade (one was made especially for me, the other one is a beautiful Monwabisi).


I love their colours, their softness and quality. I can wear these scarves every day but also for special occasions.

Thanks Ellen, for your creativity and exclusive products!

Catherine Carabas

Netherlands
The best thing about this scarf is when people say: 'You're looking gorgeous in your Monwabisi!'

-

My scarf is unique, soft and the colours and patterns are amazing.

-

I like that I can style my scarf in many different ways (due to its size).

Bisi Bangiwe

South Africa